Last night was the monthly meet-up (via Ventrillo) of my book club, Books, Booze & Bajingos. Here is the run down.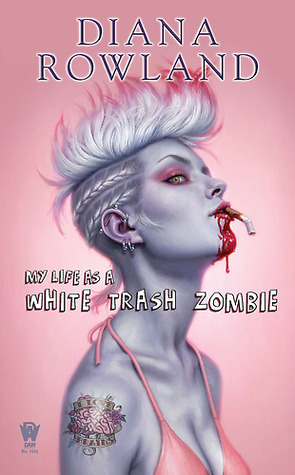 This month's book was My Life as a White Trash Zombie by Diana Rowland.
Laura and Jessie didn't make it, and I was the only drinker last night. Everyone, including myself, was surprised that I would pick a zombie book. I hate zombies. I don't know if I've ever mentioned that before, but I do. They scare me. A lot.
However, this seems to have been a huge hit with the book club. All those who were there really loved it.
One of my favorite quotes from last night: "I'm so glad she got a boyfriend with a steady source of brains, because every time she would get low on brains it would stress me out so bad." -Annie
The character growth and development of Angel (the main character) was phenomenal. We loved how real she is, flawed and relatable. We all found her self deprecation very relatable. Also, this is a unique, intriguing and very clever way to present the zombie monster genre. Also, the mystery through out the novel was very on point. No figuring it out before Angel, and I really liked that; sometimes I find it a little annoying when the dramatic irony is just laid on too thick, ya know?
---
For October, it is Maile's turn to pick.
Her pick is: